Crochet Butterfly Shawl 102 - call shop for availability, no online enrollment.
Description
Crochet Butterfly Shawl 102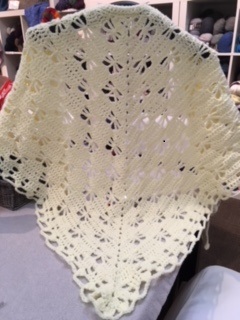 2 session class
Saturday, August 24 (will work on the body)
Saturday September 14 (will work on the edging)
1:30pm - 3:30pm
Skill Level - Must have knowledge of:
sc, dc, hdc, tr, ch, sl st
Class Fee: $40.00 pattern included (

payment due at sign-up)
Yarn and supplies not included in class fee.
Supplies needed: Worsted weight yarn of your choice, crochet hook (check yarn for size)
                              sample used 5 skeins of Encore worsted weight and a size H hook. 
                              One skein is needed for the edging.
Yarn must be purchased from Knit Two-Gether, you will receive a 10% discount on yarn for this class.
Class size is limited so register early, you can register by phone or stop in the shop. Online registration not available, contact shop for availble spaces.
Date:
Saturday, August 24th, 2019
Time:
1:30 PM to 3:30 PM