News from Knit Two-Gether!
Fix It Corrections Class
October 13th, 2018
General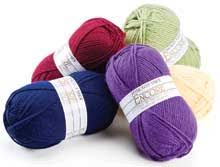 FIX IT CORRECTIONS CLASS
$20.00 Class Fee - Instructor: Joanne
Saturday, October 13, 2018 1:30 - 3:00pm
Yarn and supplies are not included in class fee.
Supplies needed: One skein of a solid light color of Encore yarn, Chibi, Scissors, size 7 or 8 needles.
Homework for class: Cast on 30 stitches. Stockinet stitch for 2" (which is knit one row, purl one row) Do not cast off.
Class size is limited so register early. Class fee is due at registration. You can register & pay online through our website calendar, by phone or stop into the shop.