News from Knit Two-Gether!
GIVING TUESDAY
December 3rd, 2019
General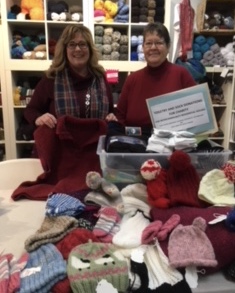 "Giving is not just about making a Donation, its about making a Difference"

The first Tuesday in December is known as Giving Tuesday, the international day of giving that kicks off the holiday season

There are no words to express our gratitude for your overwhelming generosity in giving this year. We received close to 300 beautifully knitted and crocheted hats, mittens, and scarfs plus a few sweaters. Some newly purchased hats, gloves and socks, a few bathrobes and donations of toileties.  

How appropriate that on Giving Tuesday, December 3rd Christina Lessard, DIrector of Community Relations for Intercommunity, Inc, stopped by to pick up your donations.

We also dropped off hats and gloves to the Rockville YMCA Day Care Center. They are creating a giving tree for the families to chose a hat and pair of gloves to their liking. When the giving tree is completed they will send us a picture that we will forward on to you all.

More News
There are no additional news articles to display at this time.