News from Knit Two-Gether!
Racing Raindrops Scarf Class
November 3rd, 2018
General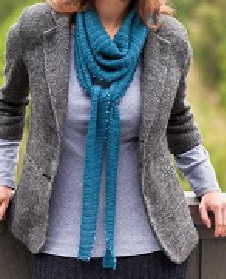 Racing Raindrops Scarf
Saturday, November 3, 2018
10:30am - 12:30pm
Class Fee: $25.00 pattern included (

payment due at sign-up)
Yarn and supplies not included in class fee.
Supplies needed: Araucania Huasco yarn (one skein for small scarf or 2 skeins for large scarf) or 437yds (sm) - 775yds (lg) fingering weight yarn of your choice. US 4 needle, approximately 130 6/0 beads, 0.75 crochet hook, locking stitch markers, fix-it tool, chibi. 
Yarn must be purchased from Knit Two-Gether, you will receive a 10% discount on yarn for this class.
Class size is limited so register early, you can register and pay online through our website calendar, by phone or stop in the shop.